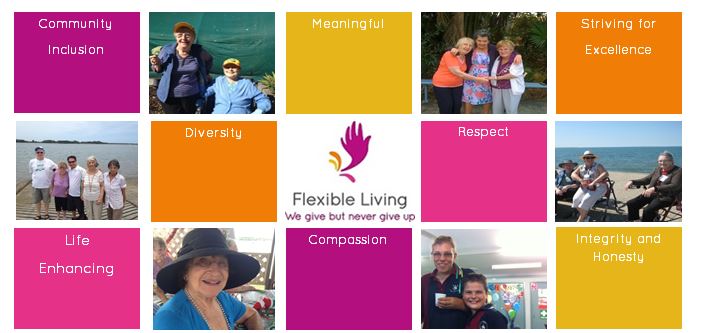 I would like to take this opportunity to send a huge thankyou to all for your support throughout our change of name, logo and building improvements. We have received great feedback from clients and their families and are so happy that it has been received so positively within the community. Flexible Living is really coming into its own.
In keeping with the continual improvement within our Centre and our commitment to improving services to all within the community we will be rolling out some changes that we hope will bring new opportunities and smoother processes.
We have been working hard to create a pleasant environment within the Centre with the introduction of the new furniture, décor and equipment. This has helped to create separate areas for activities that include a sewing and computer space, library, lounge area, workshop and gardening benches.
You will notice a change in the program. Since we have such a great space with different opportunities we would like to ensure we have several different activities available for all clients. We would encourage everyone to be involved in driving what they do whilst here. Feel free on our "In Days" to complete any project that you feel you would like to do.
Our visits ("Outing Days") will be client driven and we are happy to explore new locations or make note of old favourites to re-visit.
We would also like to evolve our "Coffee Club" to include invitations to family and friends and other community organisations to attend throughout the year. We hope this will give families and friends the opportunity to see what we do and be involved in our community.
I would also like to take a moment to welcome our new team members:-
Carol Norman – Team Leader within our Aged Care Centre,
David Rathbone has come on board to assist with Transport and Vehicles, and
Megan Usher – Team Leader within our disability programs.
What an exciting time this is for Flexible Living. Please feel free to contact myself with any questions or comments. I look forward to seeing the centre grow.
This is your centre and we are pleased to be a part of it!
Lauren Ward
Community Inclusion Coordinator